2013 Bay Area Cross Challenge
Sunday, January 13th
Golden Gate Park Polo Fields, San Francisco, CA


The Bay Area Track Club is proud to bring the third-annual Bay Area Cross Challenge (BAXC) to the San Francisco Bay Area community. This event is a unique opportunity for runners of all ability levels to compete alongside professional distance runners on a cross country course in the heart of San Francisco. Enjoy post-race food, prizes, and music as you meet and mingle with Olympians and world-class athletes.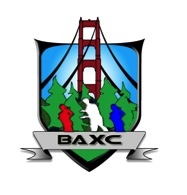 Event Information
• The Men's 8k and the Women's 6k are open to all ability levels, not just elites. They will be very competitive races, so keep this in mind when signing up.
• The All-comer's 5k is open to all genders, ages, and ability lev

els, including walkers.


• All races w
ill be chip-timed.

Reg
istration Info
• Please register at Race Roster

•
Interested in volunteering? Find more information here.
• No registration necessary for the Kids' Races!

What You Get with Your Registration!
• Race entry

•
Authentic Third-annual BAXC t-shirt! Soon to be a collectable item and worth tons of money in 50 years! (We hope!)
• Bib number automatically enters you into a raffle where prizes range from GU Product to Gift Certificates to Who KNOWS?!
• Meet and mingle with our Olympians and World Class Athletes, as well as in a short Q&A session after the meet!
• You get to feel good as you Support the Bay Area Track Club's Athletes in their pursuit of Olympic Glory, and to have us continue our Community OutReach and Kids' Programs.

Packet Pickup Information
Sports Basement, Crissy Field, 1pm - 5pm, Saturday, January 12th
Meet-and-greet with Elite competitors from 4pm - 5pm!

Current Elites Committed (They may be on YOUR team!)

Magdalena Boulet - 2008 Olympic Marathon, multiple National Champion
Sara Crouch - 10th USATF Champs (32:57)
Alissa McKaig - Represented Team USA in 2011 World XC
Clara Peterson - CIM Marathon runner-up, RocknRoll San Jose 1/2 marathon Champ
Chelsea Reilly - US Road 10k Champion, Chiba Ekiden US National Team Member
Shannon Rowbury - 08 & 12 1500m Olympian, World Bronze Medallist

Cameron Bean - 8:37 Steeplechase
Yosef Ghebray - 13:31 5k
Jonathan Peterson - 5th at USATF Club XC, 13:41 5k
Scott Smith - 28:33 10k, Multiple top-10 USATF finishes
David Torrence - 3:52mi, 13:16 5k
Brice Winkler - Pro Triathlete, member of 2010 US National Team in Duathlon

...and many more are piling in!



Highlights from the inaugural Bay Area Cross Challenge in 2011
2011 Recap
Results:
Under-20 combined (junior men 6k, junior women 4k)
Open Women 6k
Open Men 8k







CLICK FOR 2012 RESULTS


GOLDEN GATE PARK — POLO FIELDS (map)
Sunday, January 13
8:00am On-Site Registration
9:00am Open/Community 5k XC
10:00am Open Women's 6k
10:45am Open Men's 8k
11:30am Kids' Races
11:45am Team Scores ANNOUNCED! Individual Awards distributed.

Course Information
Click here for a map of the 2k cross country loop and 5k course. The cross country course is a 2-kilometer loop, mostly dirt, with steady climbs and descents. There is one 150-meter stretch of pavement.

The 5k course is one lap around the polo field, and then two laps around the 2k loop!

Where to Stay & Eat
There are many excellent local hotels, coffee shops, and grocery stores to fit your needs

Directions
The BAXC course is easily accessible from all over the San Francisco Bay Area.

Elite Athlete Information
In both the 8k and 6k Cross Country races, prize money will be awarded. Details TBD.

In the Open Community 5k, Sports Basement or Transports Gift Certificates will be awarded to the overall top Male and Female, top Junior Boy and Girl, and the top Masters Male and Female Finishers.

Please contact david@bayareatrackclub.com for additional Elite Athlete information, if needed.

Interested in being a sponsor?
Please contact tom@bayareatrackclub.com.

Interested in volunteering?
Please go here for more information.

Questions
Please contact us at contact@bayareatrackclub.com.