In Honor of Oscar Season: Striving For Perfection. In Dramatic Fashion…

by Chelsea Reilly
When my parents arrived at their first parent-teacher conference, my Mom and Dad were immediately informed by my 1st grade teacher that I was a little bit high strung. By the 6th grade I was voted "most dramatic" in the yearbook superlatives. My college coach nicknamed me "A plus plus," as he argues that my behavior exceeded the appropriate intensity levels of the standard A-type personality. And my favorite movie is Oscar winning drama Black Swan, as I have an affinity to young ballerina Nina Sayers (Natalie Portman) when she tells her critical director, "I just want to be perfect."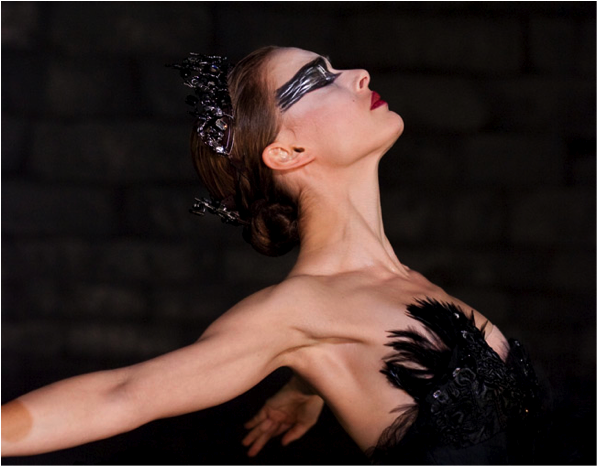 I certainly don't have any expectation that I will EVER be perfect. Far from it! But I figure that if I strive for perfection every single day at practice, I'll get some exceptional results come race time. This tactic has proven mixed results over the past month. I present you with my recent racing saga:
The Low Point
We placed a giant asterix on the calendar next to February 2nd — USA Cross Country, the qualifier for the World Championships in Poland. My coaches and family made some major sacrifices so that I could fully pursue my dream of making the team. Magda and I trained in Flagstaff for nearly a month. I missed Thanksgiving, Christmas and New Years with my family. I had nearly perfect preparation with no injury, sickness or interruption. I felt like a finely tuned machine ready to make a mark against the top cross country runners in the country. But on February 2nd, I had a bad day. I was heartbroken, embarrassed. I could not explain why I struggled to perform when my training had gone impeccably leading up to the race.
Back to Work
I brooded and moped for a couple of days; however, Magda, the master motivator and one of the most inspiring people I know, got me back on track with training. The moment my agent Ray Flynn told me that I had been accepted to race in the 3k at the British Athletics Grand Prix in Birmingham, England I was elated. I had another shot to prove myself a big stage. The Grand Prix was absolutely thrilling! The stadium was packed, the fans were crazy, and I got a nice 3k pr out of the trip.
Nationals: Round Two
After Birmingham, we decided that the US Indoor National Championships in Albuquerque would be another great opportunity to race against some stellar competition. I was fit and had a renewed competitiveness. Whatever the outcome, I was excited to test myself at the national level. The 3k started at a moderate pace and I comfortable sat in 3rd place. With two laps to go, Emily Infeld moved to the front and I immediately covered her move. I felt confident. I wasn't going to let another race slip away from me. At the bell lap I seized the opportunity and sprinted to the front. Coming off the final turn I could feel Emily and Lisa Uhl pressing behind me. As I neared the finish line Lisa and I collided and I dove across the line in first place! As I lay sprawled on the track I felt invigorated, like I had just reaffirmed my pursuit of professional distance running. Most importantly, I represented myself, my coaches Magda and Tom, and my team to the best of my ability. I fought until the end.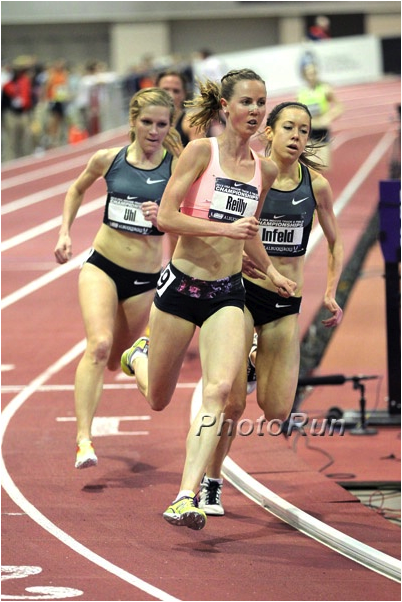 Read the post-race recap and watch my race here:
Professional racing comes with extreme highs and extreme lows. We train unwavering focus and commitment with the hope that our work will come to fruition at the perfect moment. It's all about putting yourself out there and taking advantage of every opportunity that comes your way. Sometimes it works out, and sometimes it doesn't. You just have to GO FOR IT!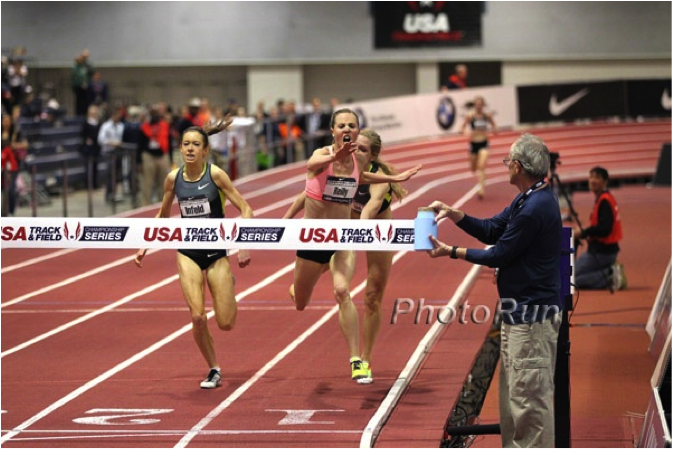 At the end of the day, it's about the journey. I feel beyond blessed to pursue my running dreams with wonderful and patient people by my side every single day —
mentors who masterfully manage my sometimes over-the-top intensity. I'm still young and new to this roller-coaster-ride of a sport. In Black Swan, Nina's ballet director responds to her naïve perfectionism: "Perfection is not just about control. It's also about letting go." I believe that success in sport means finding the balance between that intensity and enjoyment in the process of striving for perfection. And as I continue to fine-tune my poise and attitude, I am having the time of my life. I love to run, I love to train, I love to compete, and I love to win.