by Tom Kloos
I am inspired by their courage and am humbled by their faith. I do not know if they fully grasp the Herculean nature of their task, but like
Tom Bombadil
of another tale, I hope to help them along the way in their adventuresome journey. Chelsea Reilly, Taylor Bryson, Brett Zorich, Lyndsay Harper, and Kara DeWalt: these young, aspiring professional track athletes are all in their first year or two out of the NCAA ranks, and have made the commitment to furthering their athletic development by joining the Bay Area Track Club in the past six months. They have not only changed the face, but also the character of BATC with their exuberance.
They have none of the tarnish that years of trying to be a professional in an amateur sport can leave on an individual. They have not yet been stung by "reduction clauses" or "non-renewal options" of contracts after a
good
season that fell a step (or a second) short of
great
. They have not missed a medal or a spot on a team placing behind a known drug cheat returned from a (paltry) two year ban. (
Veteran Shannon Rowbury shares a thought on this topic!)
They have not felt three and a half years of training become obsolete as an injury puts them in the stands for the Olympic Trials. They have not yet been forced to have that long conversation with themselves to ask, "Is
it
worth
it
?"
The first "it" of this question is the sacrifice. Higher education degrees, careers, family are all put on hold. Financial planning means working enough hours at ad hoc jobs to afford a plane ticket to a key race. They've crashed on couches, lived in garages, or even slept in the back of a truck, all while trying to make the life transitions necessary to set up for the coming competitive season. Some uprooted from their college or home communities, left coaches and training partners, with the belief that their athletic pursuits can best be met here with the Bay Area Track Club.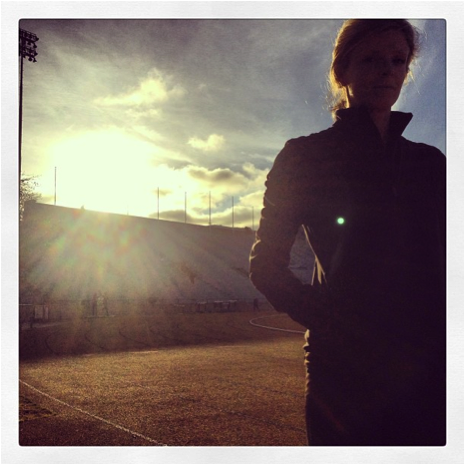 The second "
it
" is the reward. What are they trying to gain through these sacrafices? Most immediately, this reward is improved performances, PR's, and potentially an athletic sponsorship contract that can support their continued pursuit of track and field at a more professional level. Ultimately, however, I believe the reward is more personal and more intrinsic than signing a contract that amounts to less than full time employment at Starbucks. Each of these athletes has had a glimpse of the national stage, and has risen high enough in the sport to get a glimpse at what the international stage holds. (Friendships with accomplished athletes such as Shannon Rowbury, Magda Boulet, and Alysia Montano also give great perspectives!) The reward for the athletes who "make it" as post-collegiate athletes, I believe, is the ability to answer truthfully to themselves and those close to them the question, "How good can I really be?"
That they put faith in me as a coach to guide them on their journey inspires me daily to make sacrifices of my own, while seeing them succeed in their task is a reward unto its own.